I believe that today everyone is aware of Youtube, which is the most popular video entertainment channel in the world, it not only brings joy to half of users but also brings huge income. for the other half. In 2017, people nicknamed DanTDM (with 16 million subscribers and more than 10 billion views) earned £ 12.3 million ($ 16.4 million) or PewDiePie a gamer earned more than $ 10 million dollars from Youtube. This proves the great potential that this entertainment brings.
There are quite a few online competitors that try to encroach on the market, but most of them are not optimized and are left out of the race. However, "Slate" will provide you with a perfect upgrade in the video entertainment system.
More evidences, we will consider Youtube has profitable more than $ 10 billion in 2017 and grow more than 40% a year or Netflix with approximate profit. It represents the world's interest in this modern form of entertainment.
SLATE introduced the nice upgrade
SLATE is a blockchain-based entertainment utility protocol powered by a cryptographically secure multilayered network. The decentralized system will deliver low-cost, high-speed, high-definition video globally and facilitate live event ticketing on the blockchain.
Consumers will be able to spend SLATE cryptocurrency (SLX) on some of the best entertainment the world has to offer. The use of SLATE enables fair and transparent compensation between creators, producers, and distributors. Creators are compensated fairly and consumers get higher quality entertainment. Tickets purchased with SLATE will be forgery-resistant, virtually eliminating fraud. Service providers holding SLX can earn even more by storing and delivering content.

Power imbalance.
It is the imbalance between producers and suppliers, the content creators are the lifeblood of the film industry. Often considered contradictory between creativity and commerce, they are hailed as being created, demonized when paid. Slate may believe that money should never be the driving force for creators so money should never dominate the negotiations. Theoretically based on the false premise that all creators are passionate about art, and therefore not money. Regardless of motivation, creators must be compensated for the value they create. Unfortunately, when negotiating distribution agreements with leading SVOD providers, most creators have little bargaining power. Sometimes they are forced to accept less favorable terms of payment and ownership. For example, terms of payment may be extended from 12 to 48 months - a worrying practice that will reduce the cash flow of most mature businesses.
When you consider aggressive acquisition strategies, the high cost of centralized service and the inequitable treatment of creators, the future for leading SVOD providers could be turbulent. Unfortunately, the collateral damage would be consumers and creators. Consider what would happen if the current SVOD model proved unsustainable. Corrective measures could include the execution of evenmore lop-sided agreements with creators, and increases to monthly subscription fees that would eventually test consumer tolerance thresholds.
Slate solutions and practical products
In our platform, an application that appears to be used to solve community problems, Binge is a subscription-based online media provider with high quality original video content. . The hinge is intended to be the first extensive commercial platform to use the scaled-down journaling technology to provide the power of Blockchain Video on Demand (BVOD). Holders of token blocking will use this platform exclusively. The hinge is being developed to provide complete transparency and fair compensation to content creators, including the use of real-time billing - eventually turning into better content for consumers. The no geographical user limit; significantly reduce content copyright infringement; and significantly lower subscription and fee rates
Binge BVOD platform strategy includes three non-advertising channels. The token slate will be the exclusive payment method for subscription and pay-per-view services across all channels.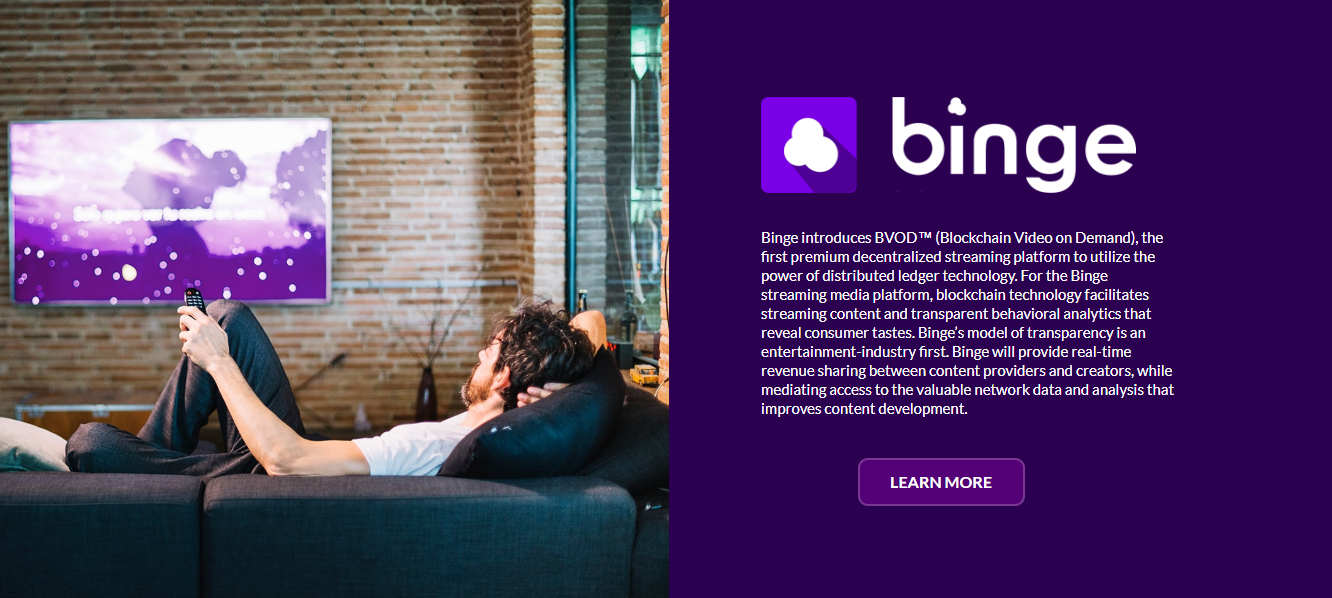 There are four main goals that I believe are the reason for Binge's introduction. They want a clean environment, providing a quality service at an affordable price, without geographical limitations. and significantly reduce piracy.
Where is Blockchain in the ecosystem of Slate
The Slate protocol is an open-source codebase that builds upon the developments of DASH, PIVX, and LBRY. SlateChain makes three key adaptations to these established protocols that collectively will optimize Slate for both blockchain based streaming service and ticketing functionality. SlateChain is a Proof of Stake (PoS) system, not a Proof of Work (PoW) system, thereby reducing the environmental impact, and opening up the possibility of strategically-aligned incentives for network participation.
An incentivized second layer network of "Service Nodes" maintains network storage of on-demand media so that it is ready for reliable streaming. Service Node operators must invest in the Slate network and maintain reliable service in order to earn network rewards (Proof of Service). A pre-determined number of Slate tokens must be owned and committed to the network as temporary collateral during a term of service.
In exchange for contributing to reliable and efficient processing, storage, and content delivery by the Slate network, Service Node operators will be rewarded with more Slate.
Finally, tokens and smart contracts will be available on the Slate blockchain, enabling the creation of an advanced ticketing and rating systems. The Service Node layer is incentivized to validate Slatix tickets and to execute event smart contracts automatically.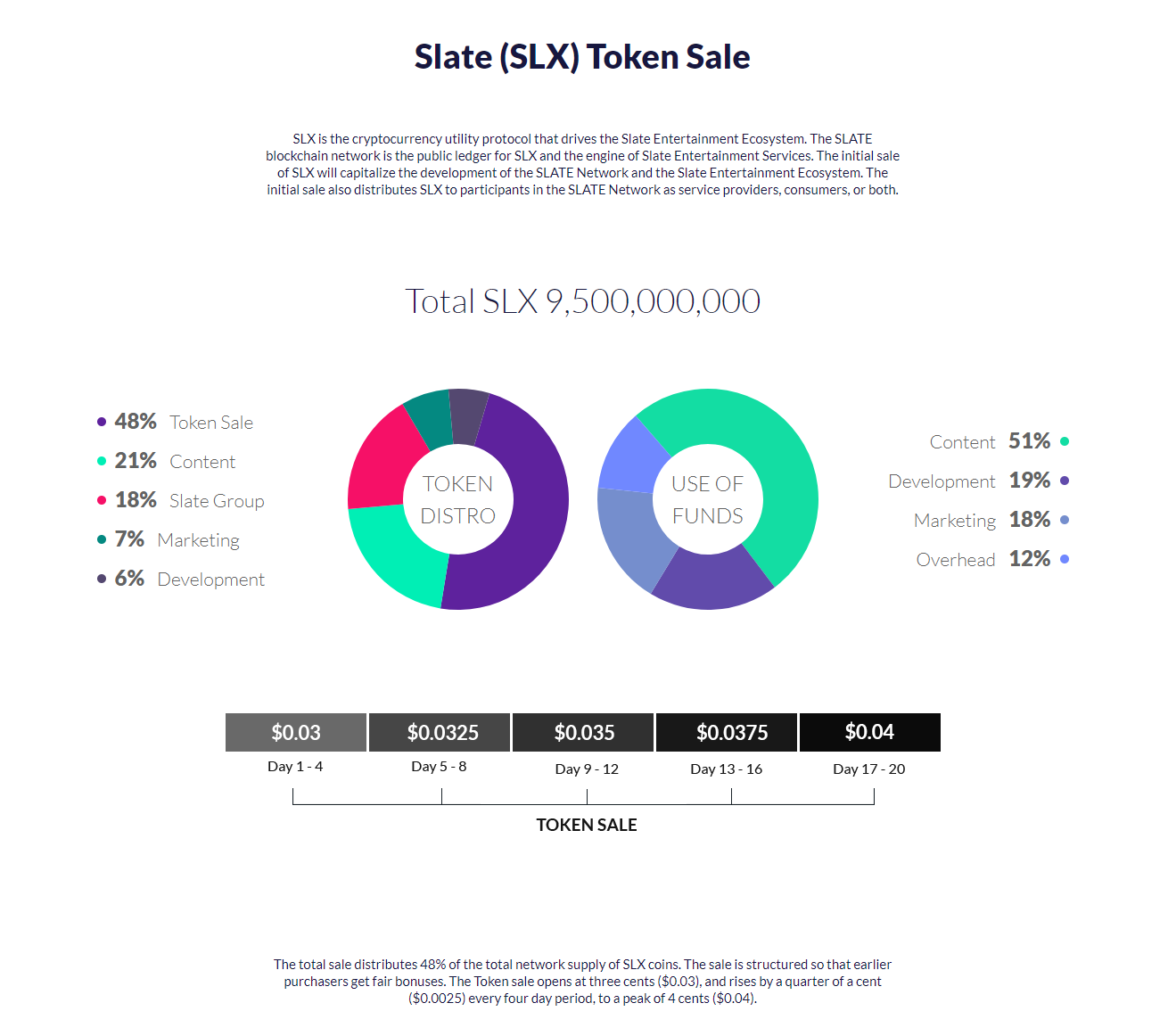 Traditional SVOD leaders have paved the way for the next generation of streaming video platforms. As evidenced by the erosion of the traditional pay TV markets (cable TV, satellite), SVOD is a sizeable growth market with significant room for improvement. With decentralization as a primary pillar, the Slate Ecosystem will strive to exploit the positive effect that blockchain technology can have on the entertainment industry. Although the core business principle of profitability will still be a key objective, the equitable distribution of those profits will be the industry differentiator. John Mackey, CEO of Whole Foods stated that "Just as people cannot live without eating, a business cannot live without profits. But most people don't live to eat, and neither must businesses live just to make profits." The SEG tenet remains that greatest content in the world. Once you have the content, you will be rewarded with subscribers.
I appreciate the potential that this project brings, in the next article I will analyze more about the project. And if you are interested in the project please join the link below.
— — — — — — — — — — — — — — — — — — — — —
Success comes from ideas, starting with enthusiastic people and flying high by the whole community
Newer Post
Older Post