Today, ICOwithme continues to come back with a new ICO - Uchain. There are many reasons to choose this project. Uchain is the ICO used in the shared economy. If you have ever heard, heard, or used Grab, Uber, Quora, Airbnb ... then that is the billion dollar brand in the shared economy. So ... What is Uchain? What will do to successfully conquer the market share economy?
Learn about Sharing Economy
In recent years, the shared economy has become a trend and has attracted many start-ups. The names like Grab, Uber, Airbnb ... have marked deep in the user. Currently, this type of economy continues to be assessed as having great growth potential. What is economic sharing?
The term "shared economy" is placed so because it uses the principle of sharing capital for business, in that each owner of the shared economic model will mobilize capital from many organizations, Businesses, individuals in society, the number of people "give you a loan without paying interest" to carry out business can be thousands of people, even millions of people around the world.
So that the word "Sharing" in the business model has a lot of power and influence, the nature of "Shared economy" is a complex issue of a company (corporation) division For millions of people, your responsibility is not much but the profit you get back is very large scale advantage.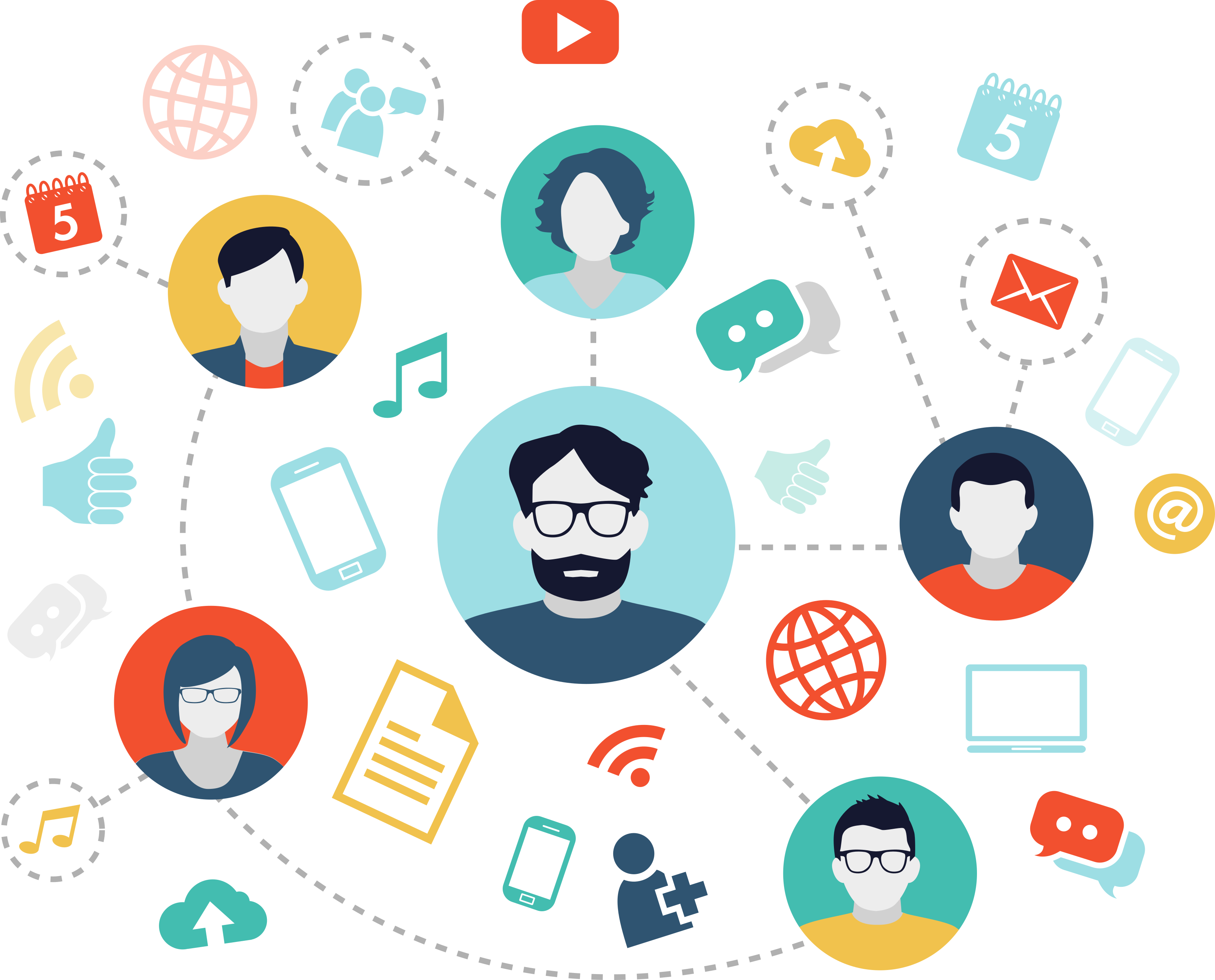 What Is The Sharing Economy?
The sharing economy is also known as a collaborative economy or peer to peer economy. One of the pioneers in the sharing economy, Ms. Robin Chase, gave the formula for the sharing economy as: 𝐼𝑑𝑙𝑒 𝑟𝑒𝑠𝑜𝑢𝑟𝑐𝑒𝑠 + 𝑝𝑙𝑎𝑡𝑓𝑜𝑟𝑚 + 𝑝𝑢𝑏𝑙𝑖𝑐 𝑝𝑎𝑟𝑡𝑖𝑐𝑖𝑝𝑎𝑡𝑖𝑜𝑛 = 𝑡ℎ𝑒 𝑠ℎ𝑎𝑟𝑖𝑛𝑔 𝑒𝑐𝑜𝑛𝑜𝑚𝑦. In the world of sharing economy 1.0, people provide their idle resources, either a physical property or a service through a third-party platform for other people in exchange for money.
The above picture shows the growth of this market. Over the past three years, the total value of the market share has increased more than three times, both in terms of global statistics and in the Chinese market. This terrible growth shows us that the economy of sharing is not just a movement that really makes a difference.
In the past year, two start-up projects reached the top 10 largest value projects in China in terms of shared economy: Mobike Technology in 2015, this startup received a total of 5.6 billion dollars of investment capital. Mobike allows users to share bikes and charge a few cents per trip. With some mobile application, users can get a bike to the subway or supermarket and park the car right there without having to look for parking space. It now has more than 200 million users with 7 million bicycles. Aside from Mobike, Ofo also occupies a large market share in the bicycle sharing market in China. This startup raised more than $ 2.4 billion. It is important that these projects take only one to two years to reach the billion-dollar market value, which is evidence for the robust development of the shared economy.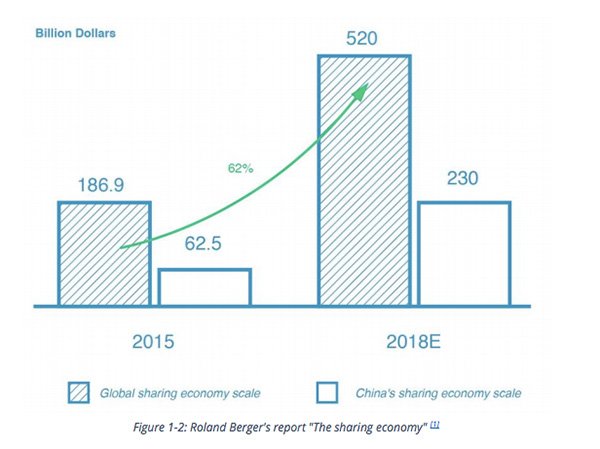 The essence of the shared economy is that businesses will only focus on developing management technology, providing services, and capital, physical means will be "called" in the society itself. Therefore, the shared economy will help to create benefits for all three parties: the service provider, the person who has the means, the idle rental and the user. For the sake of this great benefit, the shared economy easily attracts huge amounts of users and idle capital and hence scales the model at a rapid rate. There are many economic success stories shared like Grab, Uber, Airbnb, Quora ... are the most concrete proof of that.
Difficulties and challenges of shared economy
In addition to the benefits it brings, shared economic services also pose difficulties and challenges in terms of both development, management and quality and effectiveness.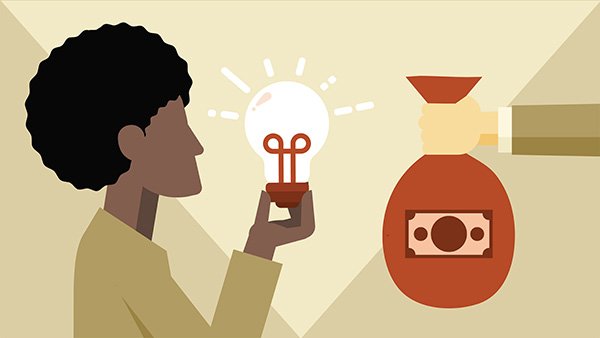 The first and most important thing is the customer experience. It can be seen after the great success, Uber, Grab began to scale his model out. Gradually, these two transport brands are better known, appearing in more countries, yielding more profits, but the customer experience is lower. Many drivers deliberately do not take trips because they think that the charges do not pay, or the situation does not pay guests to forget, even harm the lives, health, honor and dignity of customers. Recently, special cases of drivers of sexual abuse of customers have emerged. This is an alarming bell. Because the expansion itself that can not be managed by humans makes these brands do not keep the user experience as good as the original.
The cost of this transaction is due to the fact that service providers always want to maximize their profits. Also, when you use third-party payment or bank transfer services (for example, Momo, Alipay, etc.), you will be charged a third party fee.
You can build a sharing company, like renting a tourist bike, even simpler than renting a rain umbrella. However, the problem is that there is no guarantee that tenants will not always get the leased property. A start-up company in China has had to shut down because of the unmanageable leasable assets. In case you want to use the property to ensure, it causes more nuisance to the customer, increasing the cost.
Data leaks and customer data abuse
Most companies now store all customer data in a centralized database. If the management, security is not good, this data is likely to be leaked, stolen and used for malicious purposes.
In 2016, hackers gained access to over 600,000 names and driver's licenses of the American people, as well as the personal information of 57 million Uber users worldwide, including e-mail addresses. just and cell phone numbers. In 2017, Equifax, the largest credit rating agency in the United States, also leaked 140 million user data from various malicious attacks.
Just imagine how many hackers will know about your account number, account name and CCV of your VISA card, and the consequences will be unfavorable, not to mention other personal information.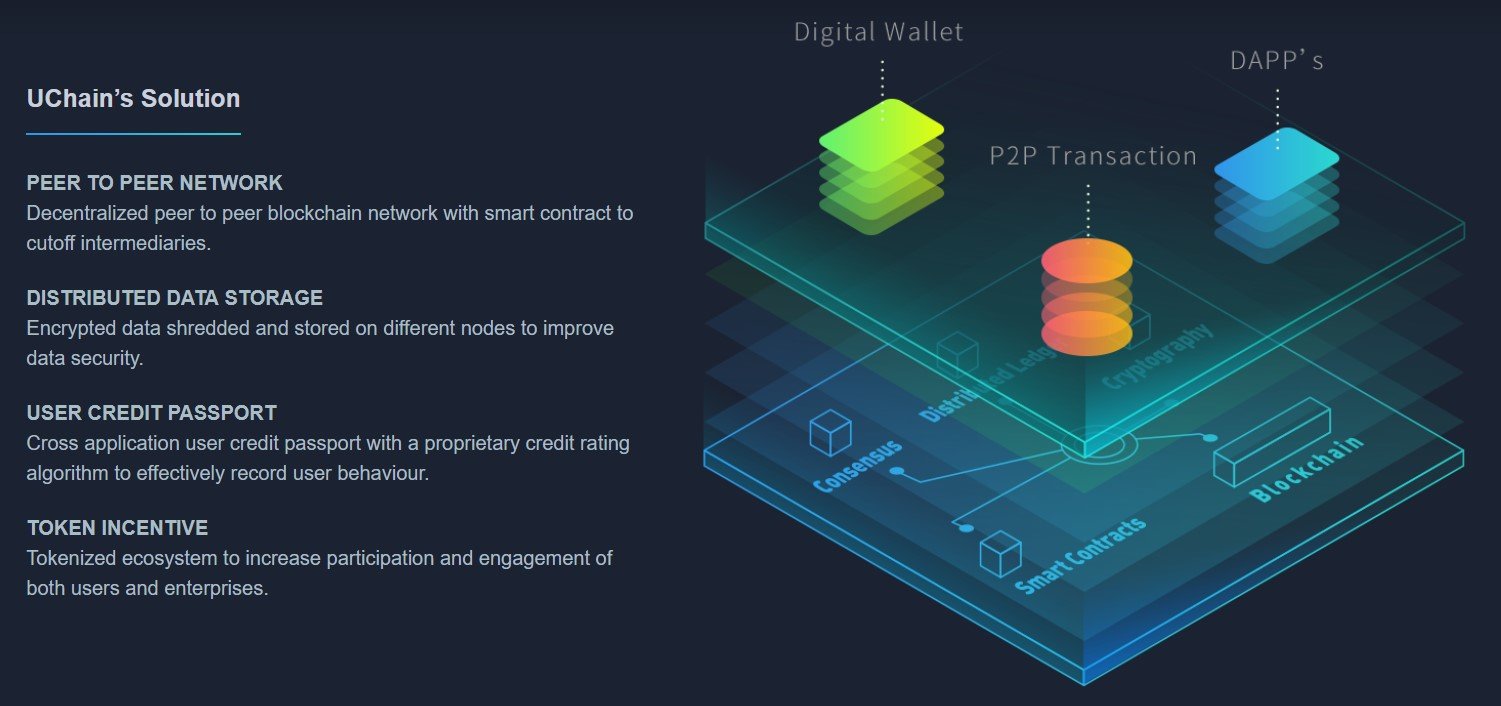 Uchain is the first public infrastructure blockchain specifically designed for a global shared economy. Along with other shared economic enterprises, Uchain aims to build its basic blockchain network to address current issues of data trust and abuse. Implementing APIs and SDKs provided by UChain, all business-to-business publishers can release their own tokens and build their applications on UChain, which together make UChain a lifecycle. economics share global autonomy better.
Due to the decentralization of blockchain, there will be no intermediaries so the transaction fee will also decrease. In addition, large files will be segmented into files stored on multiple nodes instead of being centrally stored by the enterprise. As a result, it is difficult for hackers to attack entire files of networks and businesses and they can not sell user data without detection.
Uchain has its own digital wallet. Furthermore, businesses can also build Dapps on Uchain platforms and release their own tokens. Uchain's consensus algorithm is RPCA (Ripple Protocol Consensus Algorithm) used by Ripple.
With RPCA, transactions that need to be verified will be collected into a 'candidate set' by a reliable node (A). There are many other reliable nodes who will verify the candidate's A is placed on the ballot while A will also vote to verify the candidate's group of other reliable nodes.
The idea of a blockchain for a shared economy sounds interesting and creative. By using blockchain the data security issues can be solved easily. In addition, because the network will replace the business to become an intermediary between suppliers and customers, so the transaction costs can be reduced by 20%. Those goals can be achieved, however, it would be more ideal for the team to think of a blockchain infrastructure for the community rather than for specific businesses.
In my opinion, UChain is one of the potential ico for long term investment. The market share is very potential and will grow over the next few years. As the industrial revolution of the 4.0 is spreading, e-payment will also grow, certainly the economy will share more favorable conditions. By addressing the shortcomings of the shared economy, and as a leading project in this field, there will be opportunities for breakthroughs.
In the following articles, I will take a closer look at other aspects of the project. Hope you enjoy it. Thank you for reading. More infomation:
— — — — — — — — — — — — — — — — — — — — —
Success comes from ideas, starting with enthusiastic people and flying high by the whole community
Author by: Hoangvuhk3110
Newer Post
Older Post